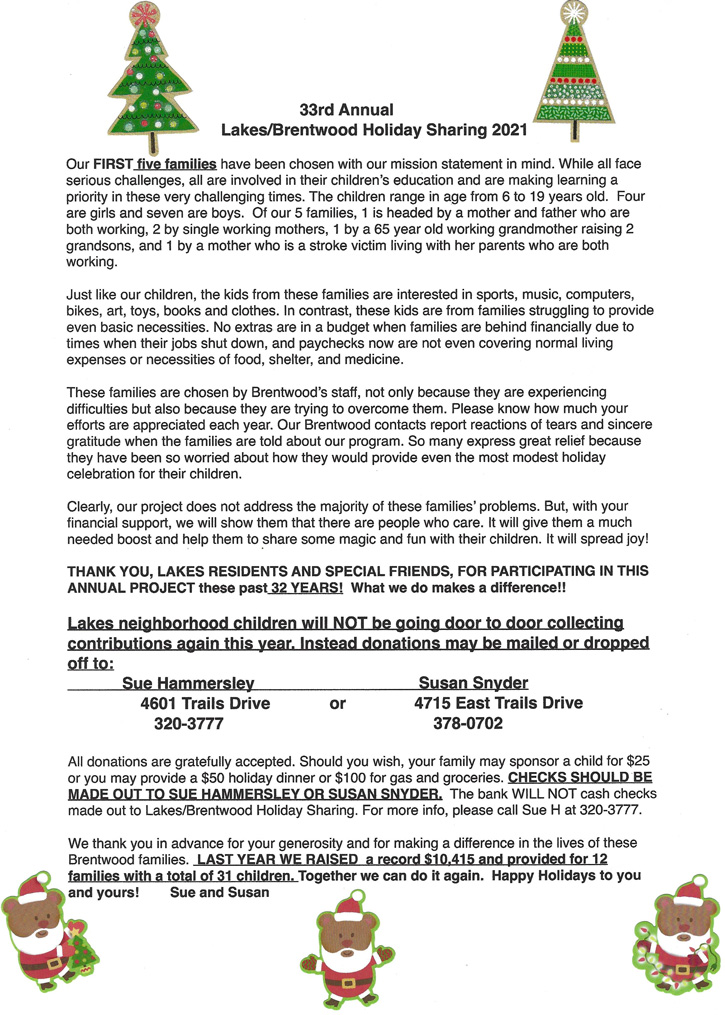 JANUARY 3, 2022 UPDATE
Dear Neighbors and LBHS friends,
Our 33rd Annual Lakes/Brentwood Holiday Sharing project was a record breaking success thanks to you!! We raised $12,045 and provided for our initial 14 families with 38 children AND, with the extra money donated, had enough for an additional 9 children from 5 families! So, because of your generosity, 19 families with 43 children were able to experience some wonderful holiday magic and fun.
A special thanks to the following Lakes residents who have been part of the LBHS team and have delivered fliers and purchased gift cards for many years:
Margaret Dirmann, Fred Shrode, Lois Schneider, Lola Lecewicz, Carolyn Deering, and Susie Scarlett.
Finally, we would like to acknowledge Brentwood Elementary's school counselor, Cindy Rasmussen, who is the boots on the ground at Brentwood, and works tirelessly to get us the information we need to make this happen.
It takes a village, and we are so proud to be part of a community that comes through, every single year, to help families who need our support and kindness.
Wishing you and yours good health and much happiness in 2022. Happy New Year!!
With gratitude,
Sue Hammersley and Susan Snyder
JANUARY 18, 2022 THANK YOU